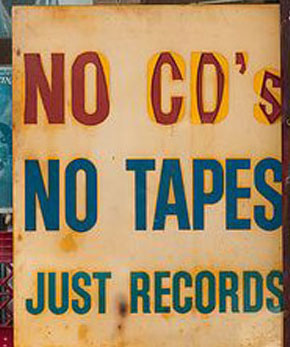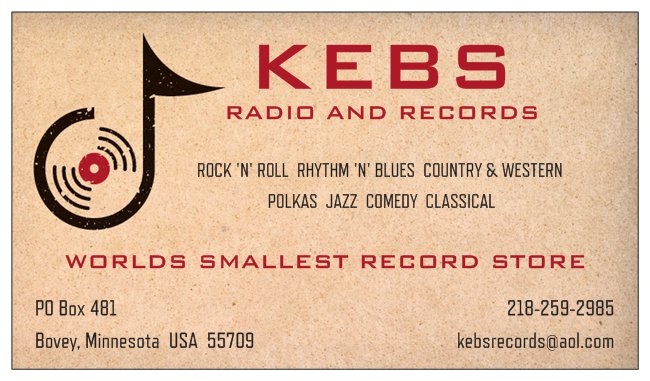 Next Opening: May 11 & 12th
HUNDREDS of fresh vintage LP's will be in stock!
The Vintage Jazz section will be expanded!
Shop early for BEST selection!
We're selling lots of
NEEDLES
! If we don't have the one you need in the store or in the shop we'll order it for you!
Also now stocking
jukebox title strips
and clear
Lp sleeves
(the same ones protecting our records in the store).
Yes we have
acoustic phonograph needles
for wind up players. They're nickel plated steel & made in the U.S.A.!
Pick up a bottle of Scientifically Tested
KEBTONE Record Cleaner
!
Check out our new record sections including: Gospel, Comedy, Country, Vintage Jazz , and my favorite "Quirky"

Like us on FACEBOOK for updates, sales, hours and vinyl FUN!

Records
Thousands of quality screened, sorted 45 RPM records to choose from, sold in archival acid free souvenir sleeves for $2 each or 6 for $10!

Select LP records, quality screened in protective acid free crystal clear jacket protectors starting at $5 each

Let us know what records you seek so we can customize our stock to your musical desires.


Thousands of 45's in stock, and tens of thousands in the warehouse.

We service want lists. Leave list of records you seek, or fill out our "Want Card" for records you're looking for.

Phonograph on site! Ask us to play any record for you!

Phonograph Needles
We have thosuands of needles in the shop. If we don't have what you need we'll find it. We have the old cross reference manuals and charts.
If it's got a needle, we can find one to fit.
Music Supplies
The basics needed by local students and musicians. Clarinet reeds, valve and slide oil, cork grease, guitar strings and picks, etc.
Let us know what you want so we can stock what you need.
Audio Transcription Services
At our off-site studio we are equipped to convert virtually any type of recorded audio to CDs or MP3s. If you have old recordings of family or friends that you'd like to preserve
in a modern, listenable format we can help. We're equipped to handle nearly any sort of audio recording including:
Reel to reel tapes. All speeds, all track formats (mono, stereo, half rack, full track, etc) 1/4 inch only
Cassette tapes, all formats (mono, stereo, even multitrack up to 4 tracks)
All phonograph records including acetate recordings, all possible speeds from 16 to 100 and everything in between
Wire Recordings. Most people don't remember these as they were quite short-lived, but if you've got 'em we can transfer them.
8 Track tape cartridges (remember these from the 60's and 70's!)

VHS and 8mm Video tape to DVD transfers
Yes, we can convert your standard VHS video tapes to DVD's! You don't have to send them out of town and worry about them getting lost or damaged in the mail. We can also transfer VHS, 8mm and Hi8 video tapes. These are the only formats we can do at this time. Transfering one video tape (up to two hours in length) to DVD is $25, and each additional copy is only $1.00. If you have some video tapes that aren't full (generally a full VHS tape runs 2 hours) we can compile them onto one DVD (up to two hours long) for $25. The maximum we can put on a DVD is 2 hours. If a second DVD is needed, it's $25.00 and so forth. Basically every two hours of running time is $25.00 if you want them put together on one DVD. Email, call or stop in for more information.
Some Good Stuff To know
I've been collecting records since I was a little kid. I received my first record player when I was three. I promptly swiped all my Mom's 78's and 45's, and Dad would bring home more records for me from his store. I purchased my first 45 at the store when I was 4 years old, and I've still got it. I've been saving records ever since. I'm not really a record dealer, in that I don't seek out valuable records to make a profit on them like most dealers do. I collect them for the pure joy of actually listening to them and hope you do the same. My Wife thinks of me as a hoarder -- I prefer to think of myself as an "archivist". Over more than 50 years of hoardi... I mean ... collecting.... records I've squirreled away tens of thousands of them including many that just aren't something I listen to, or are extra copies, etc. The idea to open this tiny store seemed like a good way to pass them on to new listeners, and at the same time make room for more in my collection.
Why are the 45's two bucks? I mean, after all, you can get them at rummage sales and second hand stores for a lot less. All the 45's in the shop are already screened -- there are no beat up records in the store. Every record in the shop you can expect to play and enjoy. No, they're not "Mint" records according to the collectors guides, but if you're grading them they're all VG and above. In addition they are all sorted alphabetically by artist and each comes in a heavy weight acid free archival sleeve stamped with the KEBS Records stamp so it doubles as a souvenir. When you seek out 45's on sites like eBay you're going to pay a minimum of $3 and up -- way up -- plus shipping. And by buying records at KEBS Records, you get to SEE THEM before you buy!
We are only open on selected weekends and other days. We'll post sale days on our Facebook page and on a sign in the window. We also generally put an ad in the
Scenic Range News Forum
the week that we'll be open. You can also hear our opening announcements on
KAXE 91.7
radio in Grand Rapids. Every time the store opens there will be records in the shop that were NOT there the last time you were in. As records sell the stock will be replentished with fresh vintage records. So, the more you buy the greater the selection of records the next time you come in! You'll want to keep coming back again and again!
Is KEBS Records really the "Worlds Smallest Record Store"? Well, that's what it says on the T-shirts. Several shops around the world seem to claim the title. Research has shown that most of them are not real stores -- they're something like a closet at a guys house, or a guys tool shed, etc. One guy in Canada is selling records out of a former refridgerated meat trailer! KEBS Records is a real retail location with a real sign, and a real door, and real windows, really registered with the State of Minnesota as a real business, with a tax ID number and everything! We collect and submit salex tax, accept credit cards and everything, because we are a REAL STORE! KEBS Records is a legitimate business with a sales floor of about 64 square feet (it's actually a bit less).
OH, I
know
someone is going to ask
"I have records to sell, would you like to buy them?"
Probably not, sorry. It has taken me well over 50 years to amass my collection, and to be able to weed out quality records for the store. After buying records just about every place that records can be bought, I'd only be interested if you have a car load, or a truck load at a very low bulk price. Why? Because about 70% of what's in a carload is headed for the dump. They're going to be too beat up, they're going to be childrens records, and they're going to be LP's like the 101 Strings, and those big fat album collections they used to sell in Readers Digest. A very small percentage will wind up in the store and a much smaller percentage will wind up in my collection. Basically I wind up paying you to take your NMP records and get rid of them for you. NMP is record collector lingo for "no market potential". If you have a bunch you'd just like to get rid of I'll take 'em, salvage what I can and get rid of the rest for you. But it's pretty rare that I want to buy any.
Feel free to email
kebsrecords@aol.com
if you have questions, are looking for a certain record or needle, or need our transcription services.
When you buy a record you get to hold it in your hand. You OWN it. There's no digital rights management. You can play it on any record player you choose. You can play it on your friends record player. You can loan it to your friend. You even get another song on the flipside at no extra charge! Try THAT with an mp3!